Back
Solar Frequency Inverters for water pumps PI500-S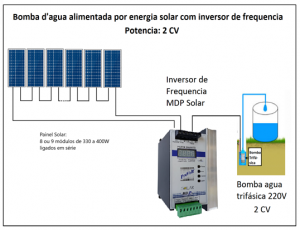 Drives
The sun is the biggest source of energy we have available, and it is increasingly replacing polluting energy matrices with great success. In addition to being clean, it´s a free source: the sun rises for everyone.
Water pumps powered by solar panels are an excellent option for water pumping solution in remote locations far from the utility grids, only the sunlight on the solar panel is enough to energize and drive the motor through the inverter.

Provolt has in its portfolio the PI500-S inverter, which reaches powers of up to 30CV at 220V and 500CV at 380V. The inverter adopts high precision fast MPPT algorithms, tracking the solar panel output by the maximum power point, driving the pump motor as much as possible to meet various pumping applications.

The inverter can support AC input and DC input from the solar panel. When the solar panel can not drive the motor or has no output, it also accepts DC input from the grid or other AC generator to supply power. Offers total protection, maximizing motor and pump life.



Written by: Dieter Claus Pfuetzenreiter
March 15,2022