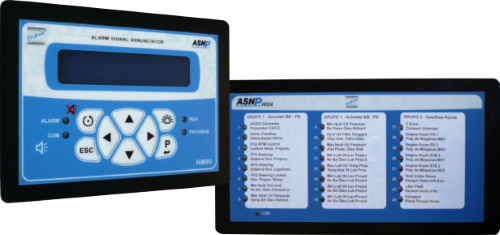 Monitoring and Alarm Solutions

Compact equipment and easy installation and operation, able to meet the most diverse applications. They have programmable channels that can be configured individually for normally open free potential, usually closed or analog input from 0 to 10V or from 4 to 20mA. The system is modular where it can be connected to MOD-BUS network modules, providing from 8 to
384 alarm points.
When triggering an abnormality on any sensor, it will visually alarm by flashing LED on the sinotic and an audible alarm. It will also trigger configurable external signalling relays for use on sirens or signalers. They have reset alarm key to silence the audible alarm, remaining the visual alarm lit until the sensor is normalized.
APLICATIONS
Alarm Monitoring for: Propulsion systems, MCP's, MCA's, tanks, doors, flooding, fire, etc.
CHARACTERISTICS
Integrated and modular solutions
Communication, RS-485 Mod-bus and RS-232
Programming with PC via Hyper Terminal
LCD indicator to identify alarms in writing
Light Intensity Adjustment (dimmer)
Test flags
Key for audible alarm cancellation
Signals: Operating mode, programming, communication, alarms
NO or NC dry contact outputs for remote signaling
HMI Master (main)
HMI Slave (remote)
Sensor input module: 24 inputs (8A + 8B + 8C)
Slot for NPN, PNP, Analog Inputs by voltage and current sensors
Logger-data acquisition (optional)
Monitoring, operation and configuration by touchscreen
Quero este produto
Preencha os campos abaixo para entrar em contato conosco:
Catálogos para download
Informe os seus dados para acessar os arquivos: